The Ada GPU architecture is designed to deliver revolutionary performance for ray tracing and AI-based neural graphics. This provides a dramatically higher baseline of GPU performance. Ada Architecture unleashes the full glory of ray tracing, which simulates how light behaves in the real world. With the power of GeForce RTX 4070 Ti or RTX 40 series and third-gen RT cores, you can experience more detailed virtual worlds like never before.
The fans on both sides rotate counterclockwise to increase air circulation through the heatsink and reduce turbulence. All three fans stop when GPU temps drop below 50 Celsius, allowing you to play less demanding games or perform light tasks in relative silence. Fans restart when temps rise above 55 Celsius, suggesting a speed curve that balances performance and sound for work or play.
A vapor chamber and generously sized heatsink combo efficiently absorbs heat from the GeForce RTX 4070 Ti GPU, allowing it to be shunted away by three Axial-Tech fans.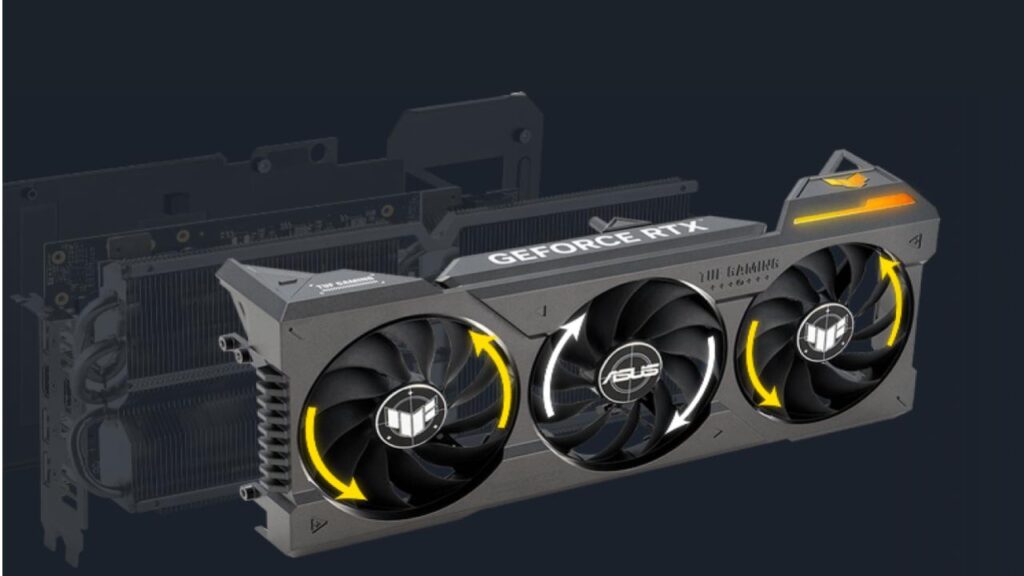 A lineup of capacitors rated to last 20,000 hours at 105 Celsius brings high temperature and ripple tolerance to the GPU power rail, arming the card for long-term deployment in challenging conditions.
A high-quality diecast shroud and aluminum backplate prevents PCB flex and features large vents to further increase heat dissipation. RTX 4070 Ti
Auto-Extreme Technology is an automated manufacturing process that sets new standards in the industry, allowing all soldering to be completed in a single pass. This reduces thermal stress on components and avoids the use of harsh cleaning chemicals, resulting in less environmental impact, lower manufacturing energy consumption and an overall more reliable product.
ASUS GPU Tweak III is more intuitive and feature-rich than ever before. A revamped interface provides greater accessibility by consolidating core functions into a centralized dashboard, and our voltage-frequency tuner has been overhauled to make overclocking even easier. Additional features like 0dB fan Technology, automatic profile swapping, fully customizable on-screen display and logging capabilities let you get the most out of your Graphics card.
ASUS TUF Gaming GeForce RTX 4070 Ti Key Point
Powered by NVIDIA DLSS3, ultra-efficient Ada Lovelace Arch and full ray tracing.
4th Generation Tensor Cores: Up to 4x Performance with DLSS 3 vs. Brute-Force Rendering
3rd Generation RT Cores: Up to 2X Ray Tracing Performance
Axial-Tech fans scaled for 21% more airflow
Dual ball fan bearings last twice as long as conventional designs
Military-grade capacitors rated for 20K hours at 105C make the GPU power rail more durable
The metal exoskeleton adds structural rigidity and pitting to increase thermal reliability
Auto-extreme precision automated manufacturing for high reliability
GPU Tweak III software provides intuitive performance tweaking, thermal controls and system monitoring